Sisters Saving Sisters
---
Sisters Saving Sisters 1st Edition Implementation Kit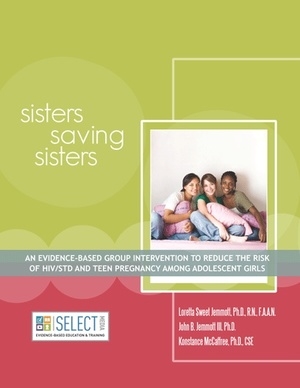 Includes:
Facilitator Curriculum

Activity Set

(hand-outs, posters, role-play cards)

Curriculum DVDs

- Nicole's Choice
- The Hard Way
- The Subject Is: HIV (Safer Sex)
- The Subject Is: STDs (Safer Sex)
- Wrap It Up & Condom Animation
---

    Purchase individual items separately
---
Recommended With
---
---
A Grantee Guide provides a module-by-module outline, as well as, detailed information about the goals and objectives of each module. The guide describes allowable and non-allowable adaptations through the explanation of the Core Elements and Key Characteristics, including a logic model. The Grantee Guide will help sites write their grants by discussing program monitoring and evaluation and SMART objectives.
Program Features
5 modules (1-hour each)
School & Community Setting
Middle-High School Girls
Comprehensive Pregnancy/HIV/STD Prevention Program
Authors
Loretta Sweet Jemmott, Ph.D., R.N., F.A.A.N.
John B. Jemmott III, Ph.D.
Konstance McCaffree, Ph.D., R.N., F.A.A.N.
Overview
"Sisters Saving Sisters" is a five module curriculum designed to empower young, teenage women to change their behavior in ways that will reduce their risk of becoming infected with HIV, other STDs, and significantly decrease their chances of being involved in unintended pregnancies. This curriculum acknowledges that abstinence is the most effective way to eliminate these risks. However, realizing that abstinence is not the path that many young people will choose, the curriculum spends a great deal of time encouraging the practice of safer sex and condom use. The curriculum also addresses the underlying attitudes and beliefs that many young women have about condoms, provides information and exercises that teach them how to use condoms correctly, and gives them the confidence they need to choose and negotiate safer-sex practices.
Objectives
At the completion of the Sisters Saving Sisters curriculum, young women will have:
Increased knowledge about the prevention of HIV, STDs, and pregnancy
More positive attitudes/beliefs about condom use
Increased confidence in their ability to negotiate safer sex and to use condoms correctly
Increased negotiation skills
Improved condom skills
Stronger intentions to use condoms if they have sex
A lower incidence of HIV/STD risk-associated sexual behavior
A stronger sense of pride and responsibility in making a difference in their lives
Program Modules
Module 1: Introduction and Overview
Module 2: Understanding Personal Vulnerability
Module 3: Developing Condom Use Skills
Module 4: Improving Sexual Choices and Negotiation Skills
Module 5: Role-Play, AIDS Basketball, and Review
Activities
The "Sisters Saving Sisters" curriculum includes a series of fun and interactive learning experiences designed to increase participation and help young teenage women understand the kind of faulty reasoning and decision-making that can lead to HIV, STDs, and pregnancy. Activities are designed to make them feel comfortable practicing condom use, address their concerns about the negative effects of practicing safer sex, and build their condom-use skills as well as their ability to comfortably negotiate safer sex practices.
The activities involve viewing culturally and gender sensitive video clips, playing
games, brainstorming, role-playing, engaging in skill-building exercises, and small
group discussions that are designed to build group cohesion and enhance the learning experience. Each activity is brief, and most are active exercises that require the participants to get up out of their chairs and interact with one another. This maintains their interest and attention in a way that lectures or lengthy group discussions do not.
Implementation
The "Sisters Saving Sisters" curriculum was designed to be used with smaller groups ranging from two to six participants, but can be implemented with larger numbers as well if more time is built into each session. It is appropriate for various community settings, including schools, and youth agencies.
Special Considerations
The curriculum requires the use of a monitor with DVD capabilities.
---
Sign up for a free trial!
Contact us to receive a free preview a full-length module, or to sign up for a 30-day trial of the program kit.
Sample Curriculum
Sample DVD Clips
---
All of Select Media programs are grounded in scientific research, proven to be effective. "Sisters Saving Sisters" is based on the following research studies.
Read the Full Study
Questions? Call 800.707.6334