Making A Difference!
---
Making A Difference! 4th Edition Implementation Kit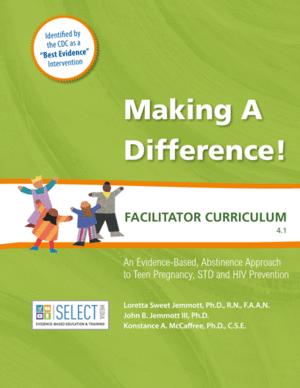 Includes:
Facilitator Curriculum

Activity Set

(student handouts, role-plays, posters)

Curriculum DVDs

- Tanisha & Shay
- The Subject Is: HIV (Abstinence Only)
- The Subject Is: Puberty (Abstinence Only)

Sample Student Workbook
---

    Purchase individual items separately
---
Recommended With
---
---
A Grantee Guide provides a module-by-module outline, as well as, detailed information about the goals and objectives of each module. The guide describes allowable and non-allowable adaptations through the explanation of the Core Elements and Key Characteristics, including a logic model. The Grantee Guide will help sites write their grants by discussing program monitoring and evaluation and SMART objectives.
Program Features
8 modules (1-hour each)
School & Community Setting
Middle-High School Youth
Abstinence-Only Pregnancy/HIV/STD Prevention Program
Authors
Loretta Sweet Jemmott Ph.D., R.N., F.A.A.N.
John Jemmott III, Ph.D.
Konstance McCaffree, Ph.D.
Overview
"Making A Difference!" An Abstinence Approach to Prevention of STDs, HIV and Teen Pregnancy is an eight module curriculum that provides young adolescents with the knowledge, confidence, and skills necessary to reduce their risk of sexually transmitted diseases (STDs), HIV, and pregnancy by abstaining from sex. It is based on cognitive behavioral theories, focus groups, and the researchers' extensive experience working with youth. Making A Difference! is an adaptation and extension of the original "Be Proud! Be Responsible!" curriculum in that it integrates STD, HIV and pregnancy prevention. To reduce STD/HIV and pregnancy risk-related behaviors, young adolescents not only need knowledge and perception of personal vulnerability, but also positive attitudes and beliefs regarding abstinence, abstinence negotiation skills, and confidence in their ability to abstain from sex. The "Making A Difference!" curriculum is designed to meet those needs.
Goals
The goal of "Making A Difference!" is to empower young adolescents to change their behavior in ways that will reduce their risk of pregnancy and HIV or other STD infection. Specifically, this curriculum emphasizes that young adolescents should postpone sexual activity and that practicing abstinence is the only way to eliminate the risk for pregnancy and STDs, including HIV.
Objectives
Increased knowledge about prevention of HIV, STDs and pregnancy
More positive attitudes/beliefs about abstinence
Increased confidence in their ability to negotiate abstinence
Increased negotiation skills
Stronger intentions to abstain from sex
A lower incidence of STD/HIV risk-associated sexual behavior
A stronger sense of pride and responsibility in making a difference
Program Modules
Module 1: Getting to Know You and Steps to Making Your Dreams Come True
Module 2: Understanding Adolescent Sexuality and Abstinence
Module 3: The Consequences of Sex: Pregnancy
Module 4: The Consequences of Sex: STDs
Module 5: The Consequences of Sex: HIV Infection
Module 6: Attitudes, Beliefs and Giving Advice About HIV/STDs and Abstinence
Module 7: Responding to Peer Pressure and Partner Pressure
Module 8: Role Plays: Refusal and Negotiation Skills
Implementation
Participants: The "Making A Difference!" curriculum was designed to be used with small groups ranging from 6-12 participants, but can be implemented with larger groups as well. The curriculum can be implemented in various community settings, including schools and youth-serving agencies.
Length: The curriculum has 8 hours of content divided into 8 sixty-minute modules. It can be implemented in 8 classroom sessions of sixty minutes each or in 4 2-module sessions. In community settings, it can be implemented in a 2-day format (4 modules each day), 4-day format (2 modules each day) or 8 day format (1 module each day).
Activities
The "Making A Difference!" curriculum includes a series of fun and interactive learning experiences designed to increase participation and help young adolescents understand the faulty reasoning and decision-making that puts them at risk for HIV/STDs and pregnancy. Activities are designed to increase comfort with practicing abstinence, address concerns about practicing abstinence, and provide strategies for overcoming concerns and obstacles to practicing abstinence.
The activities incorporate social cognitive-behavioral skill-building strategies (i.e., presentation, modeling, and the practice of abstinence negotiation skills). The curriculum involves culturally sensitive video clips, games, brainstorming, role-playing, skill-building activities and small group discussions that build group cohesion and enhance learning. Each activity lasts a brief time, and most are active exercises in which the adolescents get out of their seats and interact with each other. In this way, it is possible to maintain interest and attention that might fade during a lecture or lengthy group discussion.
Below are some example activities used in "Making A Difference!":
The goals and dreams activity focuses on having the adolescents consider their goals for the future and how participating in sexual activity at their current age might thwart the attainment of their goals. It makes clear that their best strategy is to abstain from sex.
Video clips are used to depict young adolescents in various situations. These videos evoke feelings, thoughts, attitudes, beliefs, and stereotypes about HIV/STD and pregnancy, and the importance of practicing abstinence.
The role-play scenarios are designed to provide participants with the confidence and skills to negotiate abstinence and delay sexual involvement. These realistic role-play scenarios provide young adolescents with a variety of ways in which they could use the negotiation-refusal skills that they learn in this program.
The curriculum incorporates the "Make a Difference! Be Proud! Be Responsible!" theme that encourages the participants to make a difference and abstain from sex, to be proud of themselves, their family, and their community, and to behave responsibly for the sake of themselves, their family, and their community.
Special Considerations
The curriculum requires the use of a monitor with DVD capabilities.
Recommended Training
Training is necessary to implement with fidelity and is a core component of the curriculum. During the training HIV/AIDS, STD and adolescent pregnancy knowledge and prevention skills should be reviewed and reinforced. Implementation strategies, training issues, and the trainees' comfort level with adolescent sexuality should be discussed. The content of the curriculum should be reviewed and the trainer should walk the educator through the curriculum, as though they were students. A question and answer period should be held afterwards. Lastly, the trainee practices the curriculum and receives performance feedback.
---
Sign up for a free trial!
Contact us to receive a free preview a full-length module, or to sign up for a 30-day trial of the program kit.
Sample DVD Clips
---
All of Select Media programs are grounded in scientific research, proven to be effective. "Making a Difference!" is based on the following research studies.
Results
The participants who received the "Making A Difference!" abstinence curriculum were less likely to report having sexual intercourse in the three months after the intervention than were control-group participants.
The curriculum delayed sexual experience among virgins. Among the participants
who reported no previous sexual experience at the baseline, the students who
received the "Making A Difference!" curriculum, were less likely to report having sexual intercourse at the three-month follow-up than those in the control group.
Other Significant Findings
The adult and peer facilitators were equally effective. There were no differences in the intervention's effects on behavior when adult facilitators were compared to peer co-facilitators.
The adolescents who received the "Making A Difference!" curriculum believed more strongly that practicing abstinence would prevent pregnancy and AIDS, expressed less favorable attitudes toward sexual intercourse, and reported weaker intentions of having sexual intercourse over the next three months than did those in the control group or the safer sex group.
Adolescents who received "Making A Difference!" also believed more strongly that practicing abstinence would help them achieve their career goals than did those in the control group.
Read the Full Study
Questions? Call 800.707.6334