¡Cuídate!
¡Cuídate! 2nd Edition Implementation Kit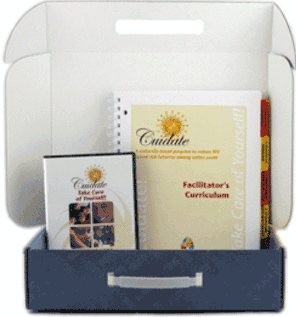 NOTE: The 2nd Edition Implementation Manual and Training of Facilitators Manual are ONLY compatible with the 2nd Edition Facilitator's Curriculum.

Includes:

255 page Facilitator Curriculum

Required Curriculum DVD/CD set


Three film DVDs
- ¡Cuidate! Take Care of Yourself
- Demasiado Joven
- Sofia & Miguel: Condom Negotiation

One Music CD

One CD with Activity Set that you can print out

---

---

Individual items sold separately, click to see catalog.

---

Recommended With

| | |
| --- | --- |
| Facilitators guide for the 2nd edition of the ¡Cuídate! curriculum. | Training Manual for use with 2nd Edition ¡CUÍDATE! materials. CD with ancillary materials included |

---
Authors
Antonia M. Villarruel, Ph.D, R.N., F.A.A.N., Loretta Sweet Jemmott III, Ph.D., R.N., F.A.A.N., John B. Jemmott III, Ph.D
Overview of the Curriculum
The word "cuídate" means "take care of yourself," which is the theme of this culturally-based program designed to reduce HIV sexual risk among Latino youth. This program is an adaptation of the "Be Proud! Be Responsible!" program. Today all teens, including Latinos, face many health risks related to sexual behavior, such as pregnancy and sexually transmitted diseases (STDs), including HIV. "¡Cuídate!" helps Latino youth develop the knowledge, attitudes, and skills to reduce their risk for HIV. The program, recommended for use with grades 8-11, emphasizes risk reduction strategies such as sexual abstinence and condom use through activities that allow youth to:
Acquire correct and reliable information about risk and disease.

Develop attitudes that support safe decision-making.

Build skills to be able to abstain from sex and use condoms.

Reinforce confidence in their ability to practice safer sex.
By using the "¡Cuídate!" program, you will be able to help teens develop the knowledge, attitudes, and skills to act in ways that will support good health and protect them from serious risks related to sexual behavior.
"¡Cuídate!" is unique because it addresses cultural beliefs related to sexual risk behaviors that are common among many Latino subgroups. Specifically, "¡Cuídate!" includes cultural beliefs related to abstinence and condom use. Program activities show these attitudes and beliefs in a positive way. Aspects of Latino culture, such as familialism and gender-role expectations, including machismo, are also built into the program. These values are used to show abstinence and condom use as culturally acceptable and effective ways to avoid unplanned pregnancy or STDs, including HIV/AIDS.
Goals of the Curriculum
The "¡Cuídate!" program has three primary goals. They are to:
Influence attitudes, behavioral and normative beliefs, and self-efficacy regarding HIV risk-reduction behaviors, specifically abstinence and condom use, by incorporating the theme of "¡Cuídate!"—taking care of oneself, one's partner, family, and community.

Highlight cultural values that support safer sex, and reframe cultural values that are perceived as barriers to safer sex.

Emphasize how cultural values influence attitudes and beliefs in ways that affect HIV risk-associated sexual behavior.
Scientific studies have proven that, if used correctly, "¡Cuídate!" can successfully achieve all of these goals.
The focus of "¡Cuídate!" is to increase each participant's skill level and self-efficacy in communicating and negotiating with sexual partners about abstinence and condom use. The program also helps teens develop the technical skills they need for correct condom use. "¡Cuídate!" provides important information about the causes, diagnosis, transmission, and prevention of HIV and STDs, as well as the risk of HIV infection for Latino youth.
Types of Activities
The "¡Cuídate!" program includes learning activities such as small group discussions, videos, games, demonstrations, and role-plays. Activities are designed to help teens get the skills they need to negotiate and practice abstinence and condom use. These activities make teens aware of how choices about their sexual behavior can affect their health. The activities show how safer sexual behavior can help avoid pregnancy and STDs, like HIV and AIDS.
Format & Length
The "¡Cuídate!" program is divided into six 1-hour modules. Each module is set up in the same way. You should become familiar with the basic layout of the modules. This will help you get the most out of the information offered to you and help you use it effectively.
Below is an outline of the curriculum modules followed by a brief explanation of the meaning or purpose of each item. This will help you know how to use the curriculum most effectively each time you review it.
Module Outline
Goals

Preview

Objectives

Strategies/Methods

Materials Needed

Time Required

Rationale for each activity

Procedures and detailed Facilitator Notes

Small-Group Activities

Curriculum Materials
Chosen by the Center for Disease Control & Prevention as a "Best-Evidence Intervention"
To listen to a brief description of the "¡Cuídate!" curriculum, click here and you will be taken to CDC's Podcast page.
Training is recommended.
Questions? Call 800.707.6334