Making Proud Choices!
---
Making Proud Choices! 4th Edition Implementation Kit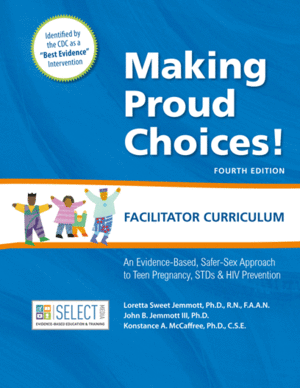 Includes:
Facilitator Curriculum

Activity Set

(student handouts, role-plays, posters)

Curriculum DVDs

- Tanisha & Shay
- The Hard Way
- Nicole's Choice
- The Subject Is: HIV
- The Subject Is: STDs
- Wrap it Up & Condom Use Animation

Sample Student Workbook
---

    Purchase individual items separately
---
Recommended With
---
---
Program Features
8 modules (1-hour each)
School & Community Setting
Middle-High School Youth
Comprehensive Pregnancy/HIV/STD Prevention Program
Authors
Loretta Sweet Jemmott Ph.D., R.N.
F.A.A.N., John Jemmott III, Ph.D.
Konstance McCaffree, Ph.D.
Overview
To reduce STD and pregnancy risk related sexual behaviors, young adolescents not only need an awareness of personal vulnerability, but also positive attitudes towards condom-use skills and confidence in their ability to use condoms. The Making Proud Choices! curriculum is designed to meet those needs.
Making Proud Choices! A Safer Sex Approach to STDs, Teen Pregnancy, and HIV prevention curriculum is an eight module curriculum that provides young adolescents with the knowledge, confidence and skills necessary to reduce their risk of sexually transmitted diseases (STDs), HIV and pregnancy by abstaining from sex or using condoms if they choose to have sex. It is based on cognitive-behavioral theories, focus groups and the authors' extensive experience working with youth. Making Proud Choices! is an adaptation and extension of the original Be Proud! Be Responsible! curriculum in that it integrates teen pregnancy prevention along with HIV/STD prevention.
Goals
The goal of Making Proud Choices! is to empower young adolescents to change their behavior in ways that will reduce their risk of an unplanned pregnancy or becoming infected with HIV and other STDs. Specifically, this curriculum emphasizes that adolescents can reduce their risk for STDs, HIV and pregnancy by using a condom, if they choose to have sex.
Objectives
Have increased their knowledge of HIV, STDs and pregnancy prevention
Believe in the value of safer sex, including abstinence
Have improved their ability to negotiate abstinence/safer-sex practices
Have increased their ability to use condoms correctly
Have stronger intentions to use condoms if they have sex
Have a lower incidence of HIV/STD sexual risk-taking behavior
Take pride in choosing responsible sexual behaviors

Program Modules

Making Proud Choices! has four major components. One component focuses on goals, dreams and adolescent sexuality. The second component is knowledge, covering information about the etiology, transmission and prevention of STDs, HIV, and teenage pregnancy. The third component focuses on beliefs and attitudes. The fourth component focuses on skills and self-efficacy. It covers negotiation-refusal skills and condom use skills and provides time for practice, reinforcement, and support.

Module 1: Getting to Know You and Steps to Making Your Dreams Come True
Module 2: The Consequences of Sex: Pregnancy
Module 3: The Consequences of Sex: STDs
Module 4: The Consequences of Sex: HIV Infection
Module 5: Attitudes About Sex, HIV & Condom Use
Module 6: Strategies for Preventing HIV Infection: Stop, Think and Act
Module 7: Developing Condom Use and Negotiation Skills
Module 8: Enhancing Refusal and Negotiation Skills

Activities

Making Proud Choices! includes a series of fun and interactive learning experiences designed to increase participation and help adolescents understand the faulty reasoning and decision-making that puts them at risk for STDs, HIV and unplanned pregnancies. Activities are designed to increase comfort with practicing condom use, address concerns about negative effects of practicing safer sex and build skills in condom use and negotiation.

The activities incorporate social cognitive-behavioral skill-building strategies (i.e., presentation, modeling, and the practice of condom use negotiation skills). The curriculum involves culturally sensitive video clips, games, brainstorming, role-playing, skill-building activities and small group discussions that build group cohesion and enhance learning. Each activity lasts only a brief time and involves adolescents getting out of their seats and interacting with each other. In this way, it is possible to maintain interest and attention that might fade during a lecture or lengthy group discussion. Below is a description of the types of activities used in the Making Proud Choices! curriculum.

Implementation

Participants: Making Proud Choices! was designed to be used with small groups ranging from 6-12 participants, but it can be implemented with larger groups as well. The curriculum can be implemented in various community settings, including schools and youth-serving agencies.

Length: The curriculum has eight hours of content divided into eight 1-hour modules. It can be implemented in eight sessions of sixty minutes each or in four 2-hour modules. In community settings, it can be implemented in a two day format (4 modules each day), four day format (2 modules each day) or an eight day format (1 module each day).

Special Considerations

The curriculum requires the use of a monitor with DVD capabilities.

Recommended Training

Educators knowledgeable about HIV/AIDS, STDs and adolescent sexuality that have experience implementing an STD/HIV prevention curriculum with youth need approximately 6-8 hours of training. The training should include reviewing the curriculum, discussing various issues in the curriculum, its implementation and what is unique, different and reasons for it. In addition, selected lessons should be modeled and the participants should have an opportunity to practice them and receive feedback.

If the educators are not knowledgeable about HIV/AIDS, STDs, adolescent sexuality and have no experience implementing an STD/HIV prevention curriculum with youth, then 24 hours of training are needed. During the training, HIV/AIDS, STD and adolescent pregnancy knowledge and prevention skills should be reviewed and reinforced. Implementation strategies, training issues and the trainees' comfort level with adolescent sexuality should be discussed. The content of the curriculum should be reviewed and the trainer should walk the educators through the curriculum, as through they were students. A question-and-answer period should be held afterwards. Lastly, the trainee should practice the curriculum and receive performance feedback.

The Role of Sexual Responsibility and Accountability

Many young adolescents do not express their sexual feelings in a responsible or accountable way. This is evident by the high incidence of STDs and pregnancy among adolescents. It is also illuminated by their self-reports of inconsistent condom use and multiple sexual partners. Young adolescents need to learn how to become sexually responsible and accountable. The Making Proud Choices! curriculum teaches participants to make responsible decisions regarding their sexual behavior, to respect themselves and others, and the importance of developing a positive image. Participants discuss what constitutes sexual responsibility, such as condom use and learn to make responsible decisions regarding their sexual behavior (i.e. that abstinence is the best way to prevent HIV, STD and teen pregnancy, however, if they choose to have sex, they must use a condom).
---
Sign up for a free trial!
Contact us to receive a free preview a full-length module, or to sign up for a 30-day trial of the program kit.
Sample DVD Clips
---
All of Select Media programs are grounded in scientific research, proven to be effective. "Making Proud Choices!" is based on the following research studies.
Research Overview
In the research study, the eight hour curriculum Making Proud Choices!, was implemented in a small group setting with African-American males and female adolescents, between the ages of 11-13, on two consecutive Saturdays in three different middle schools.
In this random control trial, 659 6th and 7th grade African-American male and female adolescents, mean age 11.8, were stratified by gender and age and randomly assigned to receive one of three eight-hour curricula: an abstinence curriculum, a safer sex curriculum or a health promotion curriculum (which served as the control group). The adolescents received the curriculum in small groups of six to eight students led by either an African-American adult facilitator (mean age forty) or two peer African-American co-facilitators (mean age sixteen).
The participants completed questionnaires before, immediately following the curricula, three, six and twelve months after the intervention. Of the original 659 participants, 97% returned to complete the three month follow-up questionnaire, 94% completed the six month and 93% completed the twelve month follow-up. The primary measures were HIV risk-associated sexual behaviors. The secondary measures were variables from the Theory of Planned Behavior and the Social Cognitive Theory, including knowledge, beliefs, norms, intentions and self-efficacy regarding abstinence and condom use.
Results
The participants who received the Making Proud Choices! safer-sex curriculum reported:
More consistent condom use and less unprotected sex in the three months after the intervention than did those in the control group.
Higher frequency of condom use at the three, six and twelve month follow-up sessions than did those in the control group.
Making Proud Choices! was especially effective with sexually experienced adolescents, For instance, among participants who were sexually experienced at baseline, those in the safer-sex groups reported less sexual intercourse in the previous three months at the six month (p<.001) and 12 month (p=.002) follow-up than the control group (p<.03). In addition, they reported less unprotected sex at all three follow-up session than the control group (p<.03).
Other Significant Findings
The adult and peer facilitators were equally effective. There were no differences in intervention effects on behavior with adult facilitators as compared with peer-co-facilitators.
Compared to those in the control group, adolescents who received the Making Proud Choices! curriculum scored higher in condom use, knowledge, believed more strongly that condoms can prevent pregnancy, STDs and HIV, believed more strongly that using condoms would not interfere with sexual enjoyment, expressed greater confidence that they could have condoms available when they needed them, reported greater confidence that they could exercise sufficient impulse control to use condoms and greater self-efficacy for using condoms.
Read the Full Study
Questions? Call 800.707.6334