DVDs
Wrap It Up & Condom Animation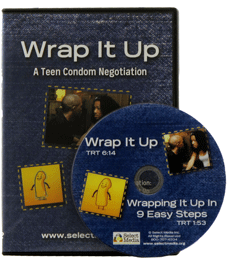 After a visit to her local clinic, Iymani attempts to negotiate condom use for the first time with her monogamous partner, Justin. Using strategies designed to overcome Justin's objections ("they don't feel right," "they don't even work," "I'm clean," "why now?"), Iymani uses persistence, communication, and emphasis on mutual pleasure and safety to ensure she and Justin practice responsible sex.
9 Steps to Wrapping It Up
This short, friendly animation clearly illustrates 9 simple steps to correct condom use.
Awards:

- Gold Award, 2012 Health & Science Communication Association Media Festival

Target Audience:

Adolescents in grades 7-12.

Duration:

Wrap it Up-- 6:14 minutes.
Condom Animation--1:53 minutes.
---
Recommended With
---

---
Questions? Call 800.707.6334