DVDs
The Subject Is: STDs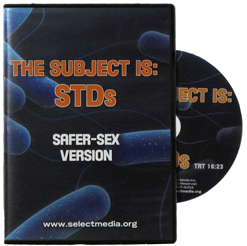 MTV2 host Desi Sanchez explains sexually transmitted diseases and infections, describes the difference between bacterial and viral STDs and illustrates how STDs are spread through social networks.
The Subject Is: STDs clearly demonstrates the importance of using condoms to avoid getting and spreading STDs. In addition, the film emphasizes the importance of talking with your partner and models effective negotiation strategy skills as a primary means for preventing STDs.
Special Features:
Hosted by MTV2 Host Desi Sanchez.
Awards:

- Integrated Curriculum Program, AEP

Target Audience:

Adolescents in grades 7-12.

Duration:

Abstinence Version--15:32 minutes.
Safer Sex Version--16:23 minutes.
---
Recommended With
---

---
Questions? Call 800.707.6334