DVDs
The Subject Is: Puberty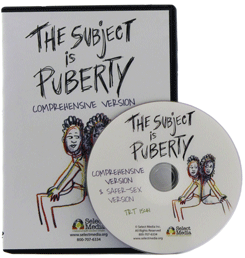 The Subject Is: Puberty is an animated film created by acclaimed artist Flash Rosenberg. The film deals with puberty and reproductive health, and introduces viewers to the physical, emotional, and mental changes that take place during puberty. Using straightforward narration and teen-friendly animation, The Subject Is: Puberty gives answers to the questions that adolescents may feel uncomfortable asking while sending a strong message that the process of growing up is normal.
Special Features:
Animated film created by Flash Rosenberg.
Awards:

- Gold Award, 2013 New York Festival's International Television & Films Awards
- Gold Award, 2012 Health & Science Communication Association Media Festival
- Integrated Curriculum Program, 2012 AEP
- Silver Award, 2012 Telly Awards

Target Audience:

Adolescents in grades 7-12.

Duration:

Abstinence Version--14:11 minutes.
Safer Sex (Comprehensive)--15:41 minutes.
---
Recommended With
---

---
Questions? Call 800.707.6334