DVDs
The Subject Is: HIV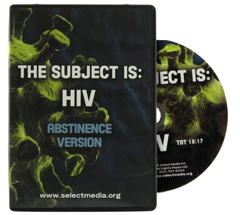 MTV2 host Desi Sanchez and Jahmone Duhaney explain HIV and AIDS, including how the virus is and is not transmitted. This DVD also promotes an understanding of people who are HIV positive, and offers teens strategies for negotiating abstinence or condom use as a primary means of HIV prevention.
Special Features:
Hosted by MTV2 Host Desi Sanchez.
Awards:

- Bronze Award, 2012 Telly Awards

Target Audience:

Adolescents in grades 7-12.

Duration:

Abstinence Version-- 16:57 minutes.
Safer Sex Version--18:17 minutes.
---
Recommended With
---

---
Questions? Call 800.707.6334